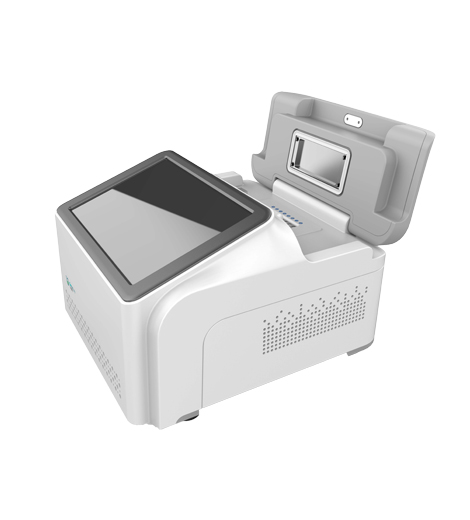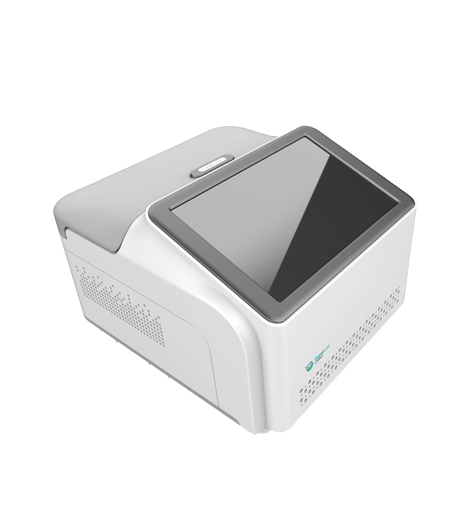 Real-time PCR System
GT-16 Real Time PCR System
GT-16 Real Time PCR System is based on the principle of real-time fluorescent PCR detection and matched with matching detection reagents. It is clinically used for qualitative and quantitative detection of target nucleic acid (DNA/RNA) in samples.
Dimensions:
320*240*152mm
Weight:
2.9 Kg
Power supply:
220V
Communication Interface:
USB
SKU:
Category: Real-time PCR System
Tags:

Real Time PCR System,PCR system,PCR, PCR Detection System

Share:
Introduction of real-time PCR system:
Nucleic acid amplification and detection technology is one of the most valuable tools in biological research today. Scientists in all fields of the life sciences - basic research, biotechnology, medicine, forensics, diagnostics, etc. - utilize these methods in a wide range of applications. For some applications, qualitative nucleic acid detection is sufficient. However, other applications require quantitative analysis.
Real-time PCR can be used for qualitative and quantitative analysis; choosing the best method for your application requires extensive knowledge of the technology. In conventional PCR, amplified DNA products or amplicons are detected in end-point analysis. In real-time PCR, the accumulation of amplification product is measured in real time as the reaction progresses, and product quantification is performed after each cycle.
Product features of GT-16 real-time PCR system:
The real-time PCR detection system consists of a thermal cycler equipped with an optical detection module to measure the fluorescent signal generated when the fluorophore binds to the target sequence during each amplification cycle.
1. The GT-16 real-time PCR system is small in size, light in weight, easy to carry, and easy to go out for experiments.
2. The GT-16 real-time PCR system has a built-in 7-inch high-definition capacitive screen PDA, and the touch screen operation is simple and fast.
3.16×0.2ml reaction module, compatible with eight rows of tubes and single tubes.
4. Marlow high-quality Peltier cooling film, combined with German high-end PT1000 temperature sensor and resistance heating compensation edge temperature control mode. The maximum heating rate is 6 °C and the maximum cooling rate is 5 °C, which greatly shortens the experimental time.
5. The entire board has a 3s fast lighting mode to ensure the consistency of hole positions in the experimental results.
6. Simple and intuitive software guidance makes it easy to start detection experiments.
The main components of GT-16 real-time PCR system:
Hot lid, hot lid switch, 16-well fluorescence quantitative reaction plate, status indicator, power switch, USB-B communication interface, programming interface (manufacturer operation), power interface, etc.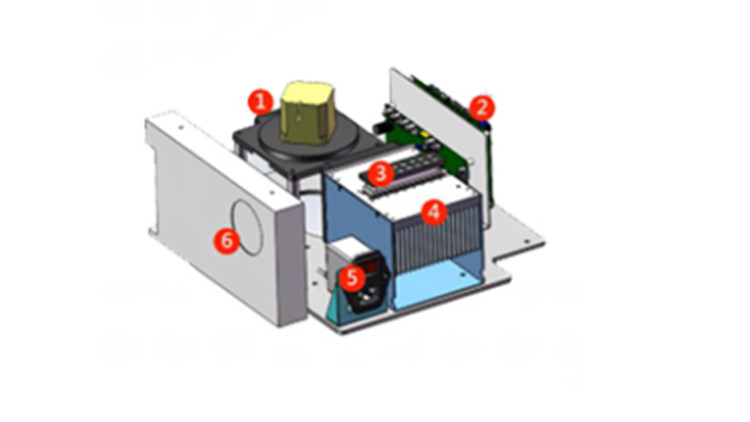 1-Optical Path Module
2-Control Analysis Module
3-Reaction Well Plate
4-Temperature Control Module
5-Power Switch
6-Power Module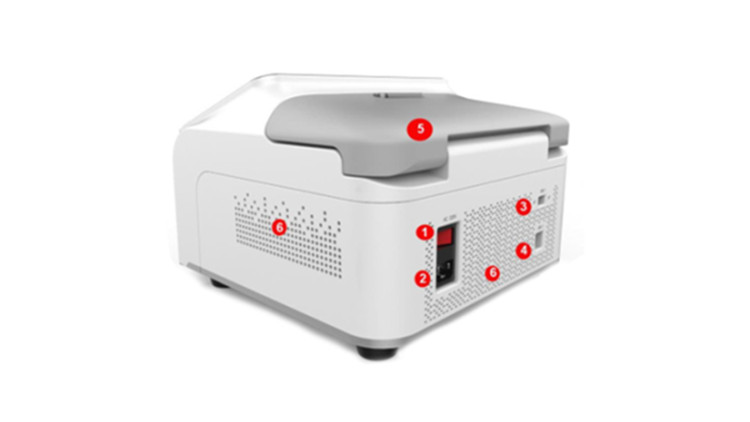 1-Power button.
2-Power interface.
3-USB-B communication interface.
4-Burning interface (used by the manufacturer).
5- Hot cover (running! Module hot).
6-Equipment ventilation holes (do not block!).
How does a real-time PCR system work?
Real-time detection of PCR products is achieved by including a fluorescent reporter molecule in each reaction well, which produces increased fluorescence as the amount of product DNA increases. Fluorescent chemicals used for this purpose include DNA-binding dyes and fluorescently labeled sequence-specific primers or probes. A dedicated thermal cycler equipped with a fluorescence detection module is used to monitor the fluorescence signal as amplification occurs. The measured fluorescence is proportional to the total amount of amplicons; the change in fluorescence over time is used to calculate the number of amplicons produced in each cycle.
Applications of Real-Time PCR system
Real-time PCR/qPCR assays have become the tool of choice for the rapid and sensitive determination and quantification of nucleic acids in a variety of biological samples, with a variety of applications such as gene expression analysis, detection of genetically modified organisms in food, and cancer phenotyping.
In research laboratories, qPCR assays are widely used to quantitatively measure gene copy number (gene dose) or the presence of mutated genes in transformed cell lines. Combined with reverse transcription PCR (RT-PCR), qPCR analysis can be used to precisely quantify changes in gene expression, for example, by measuring changes in cells that increase or decrease mRNA levels in response to different environmental conditions or drug treatments.
Precautions for the use of GT-16 real-time PCR system:
This instrument is equipped with corresponding reagents for the rapid and accurate qualitative detection of target nucleic acid in samples taken from the human body.
Experimenters need to be medical professionals who have been specially trained in medical inspection technology, instruments and software operations, and have proficient relevant operating skills.
Supplier of real-time PCR system:
GENETURE is a group company focus on the field of clinical diagnosis and life sciences,provide one stop solution of Nucleic Acid Extraction and Analysis,including solution of COVID-19. Our main products including Nucleic acid extraction kit,Nucleic acid extractor,Magnetic beads,PCR kit, PCR system, etc.
Geneture provides one stop solution of Nucleic Acid Extraction and Analysis, including different kinds of pipette tips.
If you have any requirements or questions about Geneture real-time PCR system, please feel free to contact us.
Packing pictures: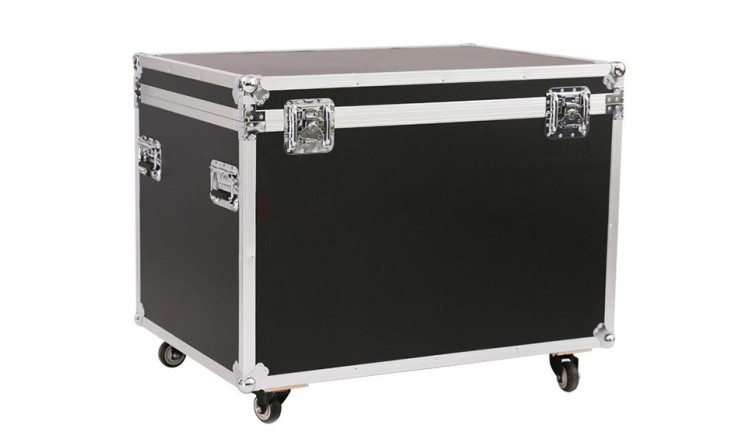 Additional Information
Technical Indicators of GT-16 Real Time PCR System:
Basic Performance

Dimensions

 320*240*152mm

Weight

2.9 Kg

Power supply

220V

Communication Interface

USB

Operating Environment Parameters

Ambient Temperature

18~35℃

Relative Humidity

0%~85%

Transport & Storage temperature

-20~55℃

Transport & Storage Relative Humidity

0%~85%

System Performance

Sample Capacity

16 Hole*0.2ml

Sample Volume

20~120ul

Applicable Consumables

0.2ml Single-tube、8×0.2ml Calandria

Temperature control range

4~99℃

Temperature control precision

±0.1℃

Temperature homogeneity

±0.15℃

Temperature accuracy

±0.1℃

Fluorescence Detection System Performance

Light Source

High brightness LED

Detector

High performance PD

Excitation and detection of propagation media

High temperature resistant professional optical fiber

Excitation Wavelength

470nm±10nm

Detection Light Wavelength

515nm±10nm
Send an Inquiry
Your email address will not published. Required fieled are marked.
Related Products
Check out other related DNA/RNA Extraction Products