Magnetic Beads
Magnetic particles are currently one of the most important materials in the industrial sector, where they have been widely used for biotechnological and biomedical applications such as carriers for recovery and for detection of DNA, proteins, viruses, and cells .
There are many types of magnetic beads. Different surface coatings and chemistries determine each type of bead's own properties and can be used for magnetic separation of nucleic acids, proteins or other biomolecules in a simple, efficient and scalable manner.This ease of use is ideal for a variety of applications, including sample preparation for next-generation sequencing (NGS) and PCR, protein purification, molecular and immunodiagnostics.
Geneture provides one stop solution of Nucleic Acid Extraction and Analysis, including several kinds of Magnetic Beads.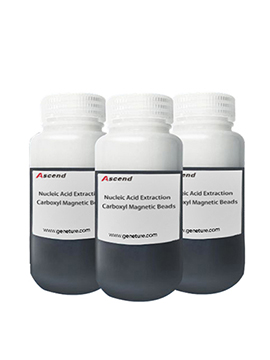 Magnetic Particles
The surface of nano-scale magnetic beads is modified with specific active functional groups that can adsorb nucleic acids.
Learn More
Get a Quote